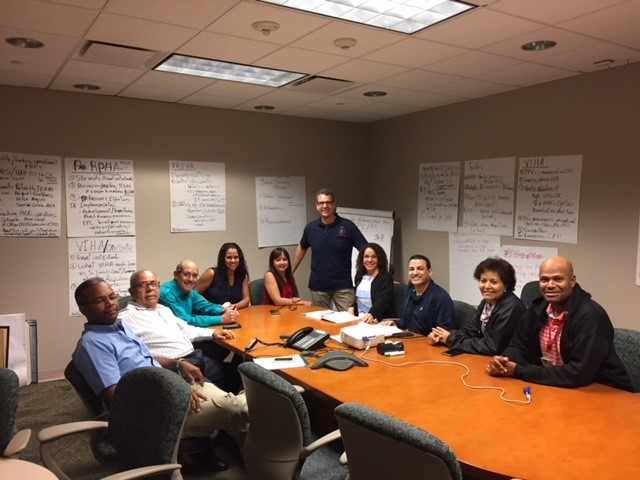 On his birthday, Sept 5, Antonio Córdova says the devastation that was coming to Puerto Rico started rolling in. That is the day Hurricane Irma touched the U.S. Virgin Islands first, then landed in Puerto Rico the next day. It was the beginning of the worst hurricane season in modern history to hit the Caribbean. Then, on September 20, Hurricane Maria hit the island of Puerto Rico.
"We got hit by two category 5 hurricanes in the span of two weeks," Cordova said. "What we saw with Irma and Maria, I've never seen before. It was a total collapse of infrastructure."
Córdova is HUD's public housing director, based in San Juan, Puerto Rico. His office is responsible for overseeing public housing and Housing Choice Vouchers for 90,000 households, or about 200,000 individuals.
Córdova lives in San Juan, near the water, so he evacuated to stay at a family's home farther inland. With his wife and their two dogs, they took with them provisions for a few days, like most families.
Also like most families, their evacuation home and the home they evacuated weathered the storm with some damage but not complete collapse. Many homes on the island are cinder block or concrete. As a direct result of the storm most families, including his own, experienced heavy flooding, wind damage to roofs, deforestation, and some serious damage to buildings not built to code.
After the storm passed, however, the bigger problems came. That was when the collapse of utilities services came, he said. Families quickly ran out of provisions and had to go in search for any open store, restaurant or community place for food and water. It was not easy.
"There was no power, no telecommunications, no water. One hundred percent of the island was not able to communicate. Not having power and water are bad. But the uncertainty, the anxiety of not knowing what is going on because you can't communicate for weeks, the unknown about family, friends and the people that we serve, that was the worst."
Córdova's brother in Florida was the one who confirmed to him after a week that his mother in a different part of Puerto Rico was ok. It took him about two days to reach the HUD field office. He had to navigate fallen power posts, downed trees, and debris. Soon, other HUD staff started showing up. Their first steps were to assess the situation of HUD staff, and the families they serve.
Families were displaced, had no food, no water, no phones, no TV, no cable, no internet, no texts, and at night everything was pitch black, so he says there were major safety concerns. In the early days, when the Field Office was administratively closed, staff that came to volunteer with response efforts were encouraged to leave by 2 pm so they could be home before nightfall. An AM radio station was the only source of information.
Running on adrenaline, HUD staff collaborated with FEMA, HHS, Puerto Rico officials, armed forces and many others to direct families to FEMA assistance first, and about 1 million people ultimately registered for FEMA assistance, Córdova said. At one point 12,000 people were in shelters across the island, Córdova said.
"The first thing you'd do when you saw someone was hug, ask how their home was, how their family was, cry if you needed to," Córdova said. And then they'd get to work.
Most people in public housing sheltered in place, since the buildings are made of concrete, he said. But after the storm staff had to focus on what critical deficiencies public housing complexes faced, such as not having power for patients on dialysis. The crew worked with the Puerto Rico Department of Housing and Public Housing Authorities (PHAs) to assess how many public housing units and Section 8 housing units had been damaged by the storm, and how many were still livable. They then matched those with the families who had been displaced. Staff also quickly worked to assist families leaving the island of Puerto Rico to port their vouchers to cities stateside, currently at nearly 360 families.
Airdrops were used to deliver thousands of meals to families, and millions of gallons of water. Of the roughly 31,000 Section 8 vouchers Córdova's team manages, at peak numbers about 380 families were displaced. Staff worked with local PHAs to assist in issuing relocation vouchers for families to find new housing. The Puerto Rico Public Housing administration also had approximately 1,000 public housing units available to house displaced families.
By mid-October, HUD sent more staff from headquarters to help manage the recovery. Today, about half of the island is still without power, and that recovery continues.
Córdova and his staff are now focused on the next step. He says some of the worst impacts felt by families came from lack of power, water, and telecommunications. Córdova said this signals it's time to look at new and different ways of developing housing and leveraging funds to include not only building units, but also utilities infrastructure. Solutions might include Low Income Housing Tax Credits, Rental Assistance Demonstration projects, Choice Neighborhoods, mixed-use developments and Community Development Block Grants – Disaster Recovery funds.
"I always tell people our first name is Housing and our last name is Urban Development." Córdova said. "How do we approach these two parts of our name on this island – and other jurisdictions – how do we rethink, bring together all those different tools, become resilient for the future."